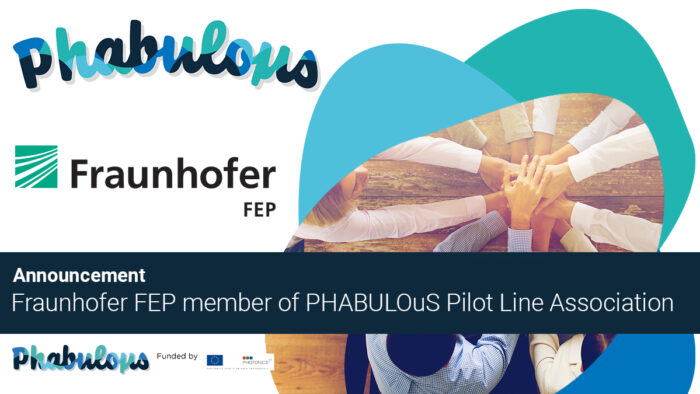 PHABULOuS proudly presents Fraunhofer FEP as official member of the PHABULOuS Pilot Line Association. Fraunhofer Institute for Organic Electronics, Electron Beam and Plasma Technology FEP works on innovative solutions in the fields of vacuum coating, surface treatment as well as organic semiconductors. The core competences electron beam technology, plasma-assisted large-area and precision coating, roll-to-roll technologies, development of technological key components as well as technologies for the organic electronics and IC/system design provide a basis for these activities.
With the core competencies, especially in electron beam technology, many different substrates can be treated, surfaces modified or biofunctional coatings applied. In addition, we research the use and development of our core technologies as effective tools for germ reduction, sterilization and specific modification of surface properties.
Fraunhofer FEP thus offers a broad spectrum of research, development and pilot production possibilities, especially for treatment, sterilization, structuring and refinement of surfaces as well as for OLED microdisplays, organic and inorganic sensors, optical filters and flexible OLED lighting.
Their goal is to develop innovative, application-oriented and sustainable medical-biotechnological applications and to open up the innovation potential of electron beam, plasma technology and organic electronics for novel production processes and components and to make it available to our customers.
For more information visit https://www.fep.fraunhofer.de/en.html